Bianchello del Metauro DOC
Fortunae
First vintage: 1986
The name Fortunae derives from Fanum Fortunae, the Latin name for the city of Fano, which is located in the centre of the production area of the Bianchello del Metauro vine.
Bianchello, which has made a name for itself as a successful wine, has been widely grown in the northern part of the Marche Region since fairly remote times, so much so that it has become one of the native white varieties par excellence of this Region. Fortunae is vinified unblended, and is the perfect example of a wine whose excellent drinkability is its strongest characteristic. It stands out for its fresh and light aromas of white fruit and its pleasant almond finish.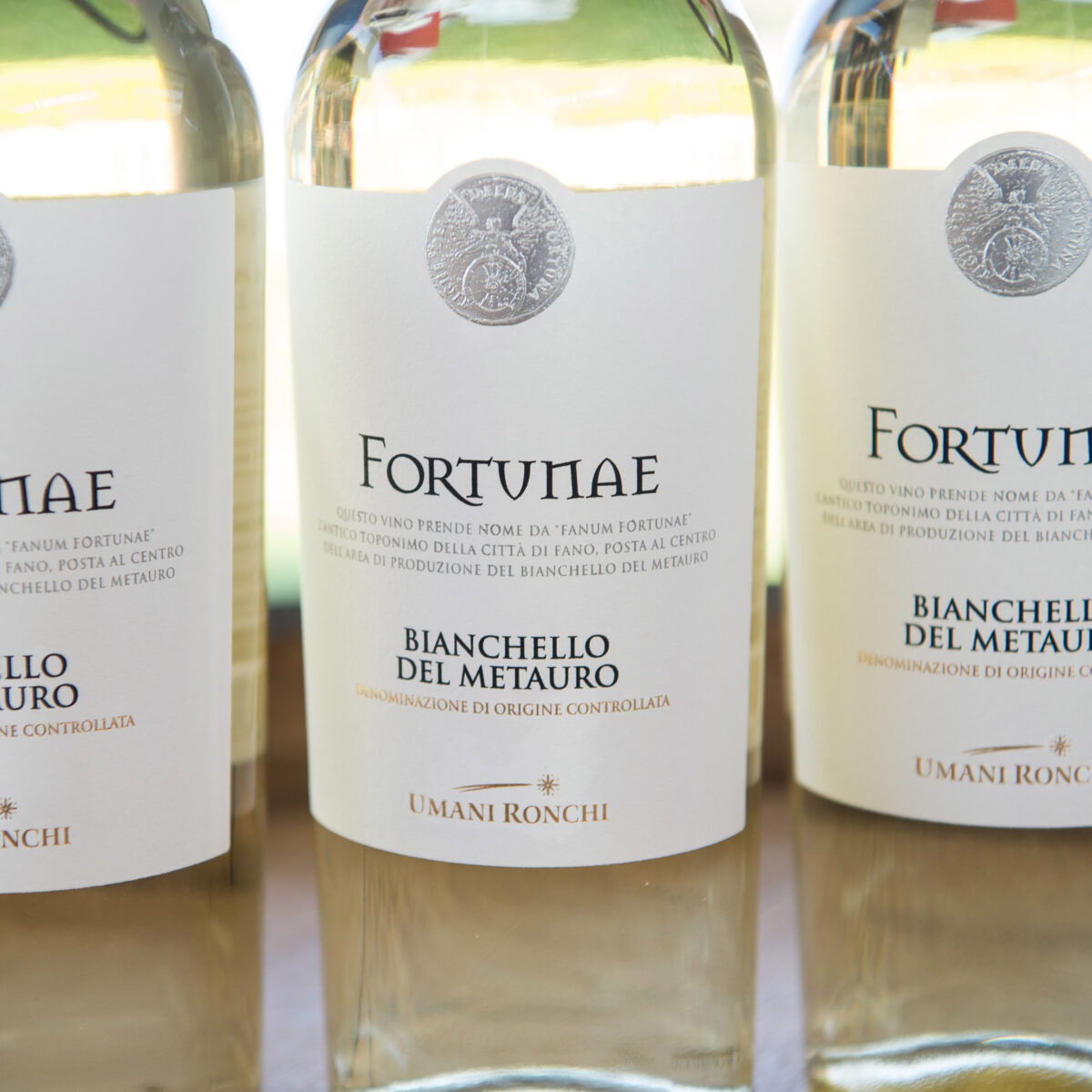 Characteristics
DENOMINATION
Bianchello del Metauro DOC
GRAPE VARIETIES
Bianchello 100%
AREA OF PRODUCTION
Marche
VINEYARD
The vineyards are cultivated on soils with a natural tendency to clay.
YIELD PER HECTARE
The average yield is about ten tons per hectare.
HARVEST
The harvest is carried out by hand and normally takes place in the period from the middle to the end of September. The ripening is constantly monitored in order to determine the exact period of the harvest, with the aim in particular of preserving a good acid profile, which represents the basis of this wine's freshness.
VINIFICATION
After static decantation, the prime must is fermented in steel tanks, at a temperature which is kept between 14o and 16oC, for about 8-10 days. The resulting wine does not undergo a malolactic fermentation, in order to preserve the primary aromas.
AGING
A brief ageing period in steel of about three months is followed by bottling.
AVAILABLE FORMATS
75 cl bottle
Tasting

COLOR
A fragrant wine, to be drunk young and fresh, with a fine and delicate character starting with its pale straw yellow colour and golden tints.

SCENT
On the nose it is subtle, with fruity and floral aromas.

TASTE
Leaves the palate clean; dry, somewhat lively, with a pleasant almond finish.

PAIRINGS
Ideal as an aperitif with lean antipasti and mixed or seafood salads, or with simple dishes based on fish or white meat.

SERVING GLASS
Tulip-shaped goblet, with the top edge very slightly flaring, light and elegant in shape, which allows the aromas to be concentrated towards the nose. This is the best way to capture the delicate and fruity bouquet of young wines.

IDEAL SERVING TEMPERATURE
8-10°C